Introduction: 
Thinking about replacing your roof in Knoxville? It's natural to feel a bit overwhelmed by all the information out there. You might ask yourself, "Where should I even begin?" or "What's really important for me to know?"
No worries – you're not alone in this. We're here to help simplify things for you. Our team of experienced roofers has taken all the essential details about roof replacement in Knoxville and condensed them into four key points. By the time you finish reading this, you'll have a solid understanding of what to consider when replacing your roof in Knoxville.
And here's a bonus: as you reach the end of this article, take advantage of our free roof estimate services. They're designed to give you a better idea of the costs involved, so you can confidently plan your budget.
So, let's dive right in.
Understanding Roof Replacement
Before delving into the essentials of obtaining a new roof in Knoxville, let's take a moment to grasp the concept of a roof replacement. At its core, a roof replacement or repair involves the process of meticulously removing the existing roofing materials right down to the underlying decking. 
Once this removal phase is completed, the next step entails installing an entirely new set of roofing components, which includes crucial elements such as the underlayment and shingles. 
However, you need to remember not every time your roof springs, a leak means it's time for a complete replacement. The best course of action depends on what our skilled residential roof replacement contractors discover during their thorough inspection. 
This meticulous assessment considers several factors, including the level of damage and the overall health of your roof. As a result, the solution for your leak might involve targeted repairs rather than a full-blown replacement. This tailored approach ensures you get the most effective and cost-efficient fix for your roof's specific needs.
Not sure if your roof needs repair or replacement?
Roof Repair Specialists can help.

4 Key Things to Know About Roof Replacement in Knoxville
Now that we've covered the basics of roof replacement let's delve into four crucial things you should keep in mind when replacing your roof in Knoxville.
Popular Roof Choice in Knoxville
Among the array of roof types available, there's one standout favorite in Knoxville and across the nation – the asphalt shingle roof. These roofs are particularly popular due to their cost-effectiveness, making them a top choice for most homeowners. Within asphalt shingles, there are three main types:
3-tab Shingles: These lie flat and have three tabs on each strip.
Dimensional Shingles: Providing an attractive random pattern or emulating the appearance of wood shake roofs.
Luxury Shingles: Larger than other asphalt shingles, they replicate the slate look. 
While 3-tab shingles once held sway over the market, today, dimensional shingles have become the prevailing choice for roof installations. These days, you'll find dimensional shingles being used on most roofs. However, it's worth noting that luxury-style shingles are also widely promoted, much like their dimensional counterparts. The key difference lies in the cost – luxury shingles are nearly twice as expensive as dimensional ones.
If you're uncertain about which roof type suits your replacement needs, our local roof repair specialists are here to guide you toward the optimal choice.
Picking the Right Time to Replace Your Roof in Knoxville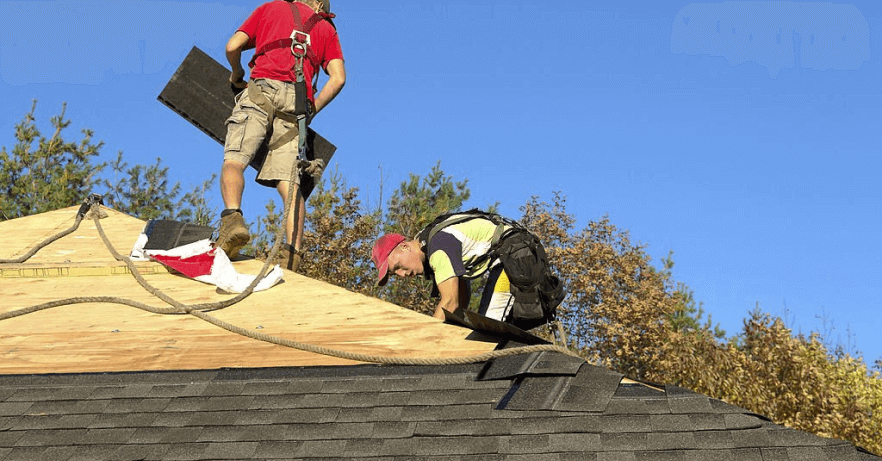 Considering the climatic conditions unique to Knoxville, replacing roofs is a year-round affair undertaken by Tennessee roofing companies. However, choosing the right time and conditions for your roof replacement is imperative. 
Your roof must be dry for a proper installation, with no rain or snow expected in the forecast. If roof work happens during rain or snow, you're setting the stage for future problems. Temperature matters too.
When it's below 40 degrees Fahrenheit, it's not a good time to install shingles. Why? Because colder temperatures can make shingles more susceptible to bending, breaking, and cracking, undermining their effectiveness in safeguarding your home. 
Given Knoxville's weather, with its mild winters and moderate rainfall, aim for a time when rain and snow are minimal, and temperatures are above 40 degrees. That way, you ensure a hassle-free roof replacement that'll keep your home safe for years.
Choosing a Local Knoxville Roofing Company
When it comes to investing in your roof, the choice of a roofing contractor local to Knoxville is absolutely vital. Opting for a local roofing contractor means they should have a physical office and a phone number in Knoxville. This ensures you have a clear point of contact if any roof-related issues arise.
Another compelling reason to hire a local roofing company is their familiarity with the unique needs of our area. They're well-versed in the specific installation codes, necessary paperwork, and all other requirements essential for ensuring your roof is installed correctly and aligned with the regulations of Tennessee.
It's worth noting that some out-of-state companies swoop in after significant storms, offering seemingly lower prices than local roofing companies. However, their goal is often to make a quick profit and move on to the next storm-hit location. These companies may not adhere to our local codes or take the time to install your roof properly.
Now that you recognize the importance of hiring a Knoxville roofing contractor, are you ready to connect with a local roofing company that prioritizes customer satisfaction? Roof Repair Specialist has a proven track record of replacing roofs in the Knoxville area for over a decade. Our commitment to doing things the right way is reflected in our ability to provide you with a new roof built to last for years – a commitment we back with a lifetime warranty.
Roof Replacement Installation Process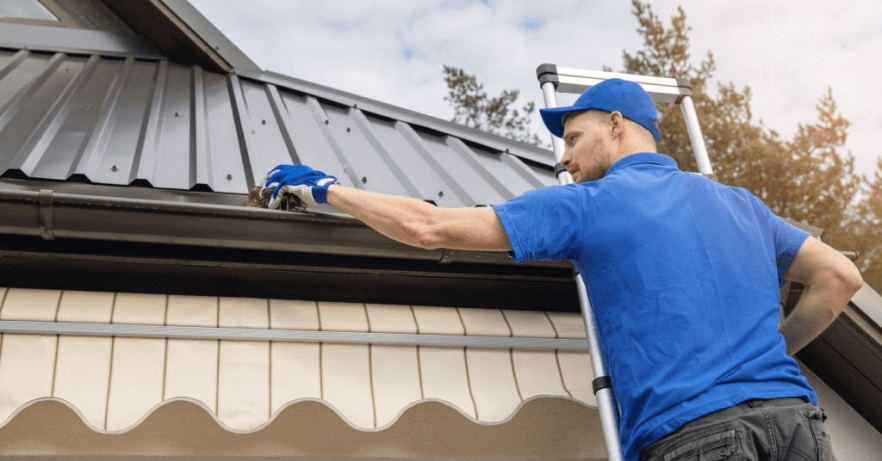 The day your new roof is installed plays a crucial role in determining how well it will perform in the future. Ensuring the right installation techniques and that your attic has proper ventilation is vital for its durability and effectiveness. But what exactly goes into the process of replacing a roof? Let's take a closer look at the steps involved:
Ready with Materials:

The process begins with delivering all the necessary roofing materials to your doorstep. This ensures that everything is in place for a seamless replacement procedure.

Preparing the Area:

On the installation day, your local roofing professional arrives and ensures that your driveway and garage are clear. This sets the stage for a smooth process ahead.

Prioritizing Safety

: Before diving into the replacement, the team protects your property. This ensures that your surroundings remain safe throughout the removal and installation phases.

Removing the Old, Starting Anew:

With the preparations complete, the old roof is carefully removed down to a clean base. This clean slate becomes the foundation for the new roof.

Integrating the New Components

: As the old roof makes way, new roofing components are installed. This includes placing underlayment, adding shingles, and other elements essential to your specific roof.

Final Touches and Cleanup:

With the final shingle in place, the focus shifts to meticulous cleanup. Any debris generated during the replacement process is thoughtfully cleared, leaving your property neat.

Thorough Roof Inspection:

Before concluding the process, your roofing expert thoroughly inspects the newly installed roof. This careful assessment ensures that the work meets the highest standards, resulting in a visually appealing and structurally reliable roof.
Securing Your Roof's Tomorrow with Expert Roof Replacement
In essence, roof replacement is about more than just looks. It's a careful process that lays the foundation for your home's coming years. By teaming up with a local Knoxville roofing company like Roof Repair Specialist, you're tapping into tailored expertise that suits our local weather and needs. 
So, if replacing your roof is on your agenda, why wait? Contact us today, and we'll take care of the entire process. Your roof's future is in safe hands.